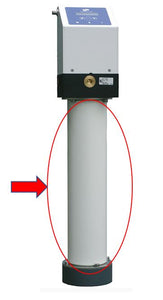 SECCUA 10545 Replacement Membrane (Controller not included)
Works on the following systems: UrSpring Home, UrSpring Well, UrSpring Basic, and Virex Pro.  With proper maintenance and pre-filter replacement (completed every 4-6 months or as needed), the membranes could last up 3 to 5 years.  Made in Germany.
Specifications:
Max. operating pressure:                  5.0 bar (=500 kPa, 72 PSI)
Operating temperature:                     4°C to 40 °C (39 °F to 104 °F)
Water temperature:                           All UrSpring systems: 4°C to 40 °C (39 °F to 104 °F)
Storage temperature:                        0 °C to +40 °C (32°F to 104 °F)
pH range:                                          pH value of 2 to 11 (during operation)
Chlorine tolerance:                           Tolerance for free chlorine: 200,000 PPMH, max. concentration 200 PPM
Pressure difference feed – filtrate:    0 – max. 2.5 bar (=250 kPa, 36 psi)
To find out more information about Seccua products, please visit www.seccua.com and contact Water Control Inc!